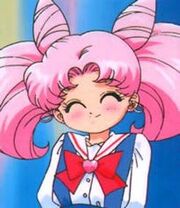 (THIS PAGE IS UNDER CONSTUCTION. CHARACTER WRITTEN OUT OF CONTINUITY.)
Rini Tsukino (also goes by Chibiusa in Japan) is a character from the popular anime series Sailor Moon. Her actual first name is Serena (or Usagi), but it was slightly changed to avoid confusion with her mother with the same name. In the ITWverse, she is one of the main characters controlled by Jumpman84 (the user, not the character). She is also the adopted daughter of Jumpman84 (the character, not the user). As such, she serves as the second in command under J84 (both the user and the character). She is generally regarded as being Jump's better half, though they are not a traditional couple.
(Page still under construction due to Munchlax eating the building materials. What a pig. Work will resume when the new shipment comes in. Hopefully Rini will still not get crushed.)
Ad blocker interference detected!
Wikia is a free-to-use site that makes money from advertising. We have a modified experience for viewers using ad blockers

Wikia is not accessible if you've made further modifications. Remove the custom ad blocker rule(s) and the page will load as expected.